CITAM, led by the Rev. Calisto Odede, Presiding Bishop, today made its contribution to the people who are facing starvation in Kenya. Through the Bread of Life (BOL) campaign, CITAM donated Kshs 8,710,000 part of which was from the direct contributions by church members through the Mpesa Paybill number.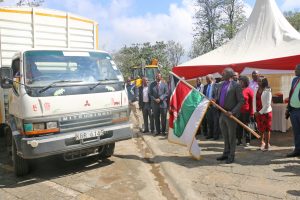 "We have 27 tons of food comprising of 170 bags of maize, 55 bags of beans, 320 bags of rice, and 67 cartons of cooking oil," Rev. Anthony Makena, CITAM's Head of Social Action and Advocacy said today during the flagging off ceremony held today at CITAM Valley Road.
Bishop Calisto Odede while flagging off 10 tons of foodstuff, thanked the people who had given their donations. "If you notice your enemy is hungry, give him food," he said to express the magnitude of responding to people on the verge starvation. An additional 17 tons of food will be distributed from Marsabit. The food will benefit 800 households (about 4,200 people) in Archers Post, Kargi, Oltorut, and Loyangalani. Furthermore, there will be cash transfers of Kshs 6, 159 to 900 households translating to 6,300 beneficiaries in Namoruputh, Meru, Kajiado, and Kilifi.
Bishop Odede also commissioned a Ksh 106 million drought relief intervention program with a development partner. The 7 months' initiative will be in Matarba, Jirime, Gororukesa, Galgate, Jaldesa, and Marsabit Township in Marsabit. The program will reach 1,500 households (9,600 people) with a monthly cash transfer of Ksh 9,000.
We praise God for His faithfulness and pray that livelihoods will be restored in the affected areas.